I found this article on Artnet (http://www.artnet.com) on September 11, 2020.
The purchase and collection of homophobic artworks at Warsaw's leading, Ujazdowski Castle Centre for Contemporary Art in Warsaw, Poland, by a director appointed from the newly governing right-wing Law and Justice, in a departure from previous rules, has drawn criticism.


https://news.artnet.com/art-world/poland-acquisitions-1907310
The work featured in this news item is by Jacek Adamas, a Polish artist born in 1955 whose work is based on the motif of a neon police baton.
President Andrzej Duda, who leads a conservative coalition that includes the ruling Law and Justice (PiS) party and was newly appointed president in the presidential election held in Poland in July this year, has repeatedly made homophobic statements, such as "I intend to ban same-sex marriage and adoption by homosexuals in the Constitution," which has drawn the ire of activists in Poland. In Poland, LGBTQ+ issues have become a hot topic in recent years, with President Andrzej Duda repeatedly making homophobic statements, such as "I intend to ban gay marriage and gay adoption from the constitution.
– Introduction
The term LGBTQ+ has only recently come to be used to describe sexual minorities, but LGBTQ+ artists existed long before the term was coined.
Artists have been quietly infusing their identities and sexuality into their work, sometimes as a weapon to combat social prejudice. This is one of the important roles that art plays regardless of LGBTQ+ issues.
When we examine LGBTQ+ art, we find that many of the works are metaphors rather than full-fledged statements of these elements. This is thought to be to avoid being discussed only in terms of the LGBTQ+ aspect when various motifs are entrusted to a single work. Although the number of countries and regions around the world that recognize same-sex marriage and other rights similar to marriage is increasing, it cannot be said that changes in constitutions and laws have changed people's sentiments, and it can be said that prejudice has yet to disappear. On the other hand, there are cases where people's sentiments have been changed through art, and this change has become a social phenomenon, even leading to a national movement.
In this interview, a photograph taken during the Vietnam War is cited as an example of how a single photograph triggered a change in people's sentiments.
Can art break through the "indifference" toward LGBT people?


In this blog, we would like to introduce the works of artists who have reflected their sexuality in their artworks without hiding it, as well as the changing society and recent movements. 
・Rosa Bonheur (1822-1899)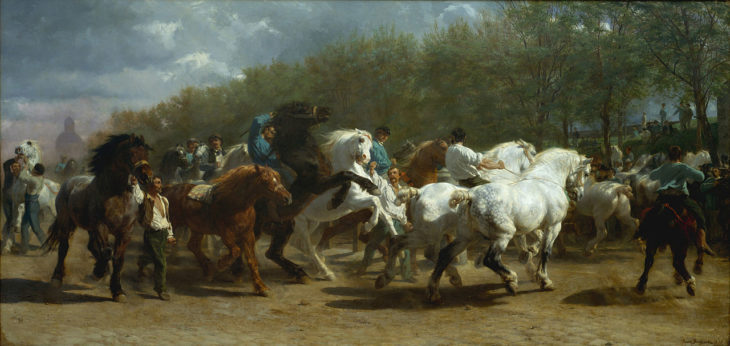 A French realist painter and sculptor, Bonheur left many works that depict animals as they really are. Although women painters were very rare at the time, she became famous for her masterpiece "The Horse Fair," and was decorated with the Legion of Honor as the first female artist in French history. She was also famous as a homosexual and a "painter in men's clothes. Her work was considered to be full of "masculine virility. Oddly enough, in an era so strongly bound by convention, Rosa's eccentric life was not a scandal, although an anecdote has it that she had to request permission from the police authorities to wear men's clothing (more precisely, pants) in order to attend livestock fairs.
・Simeon Solomon (1840-1905)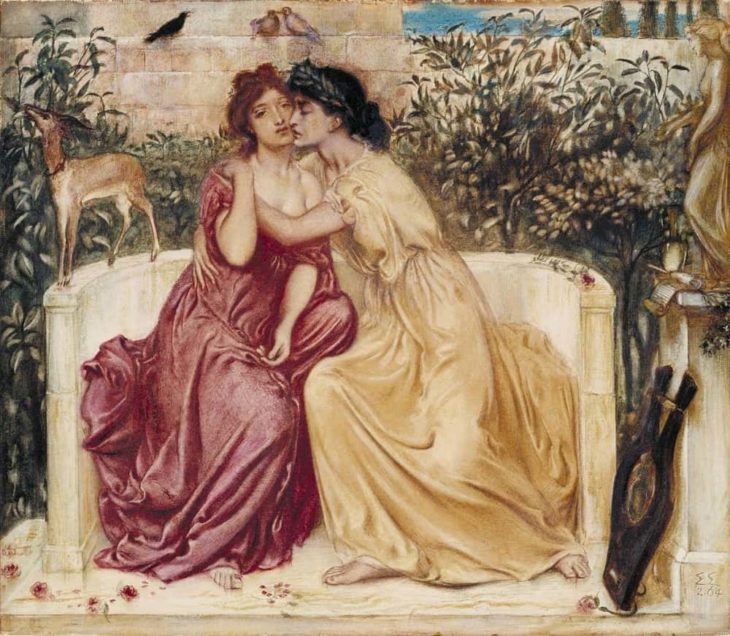 English painter and member of the Pre-Raphaelite school. It is likely to be the first painting in the West to depict homosexual desire between women. The work is based on Sappho, a female poet of ancient Greece, and the word "lesbian" derives from Lembos Island, where Sappho lived. Solomon's career was cut short when he was arrested for having homosexual relations with several men, and he was long forgotten by history. His other works also depict historical, mythological, and religious stories, but with underlying homosexual undertones. At the time of the painting, England had abolished the death penalty for "anti natural intercourse" and reduced the penalty to a minimum of 10 years in prison or life in prison.
・George Quaintance (1902-1957)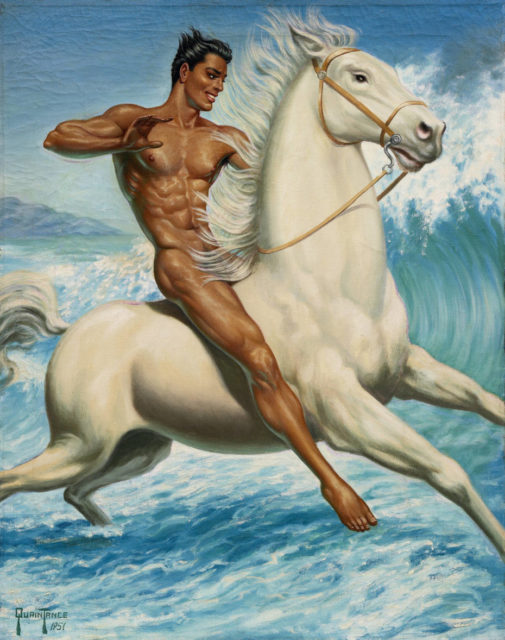 An American painter and "pioneer of gay aesthetics," Quaintance became especially famous for his paintings that emphasized muscular beauty. He established the stereotype of the "macho stud" and had a great influence on artists such as Tom of Finland, whom we will introduce later. Many of his best-known works were painted in the 1950s, around the time when the Homophile movement, a movement that began in the Netherlands and Sweden to demand homosexual rights, gradually spread to other countries in the United States. The movement further spread to other countries around the world, including Japan, and continued until the mid-1970s.
・Francis Bacon (1909-1992)
Francis Bacon was an Irish-born British painter who remained committed to figurative painting in the post-World War II art world, when abstract painting was at its height. His paintings are mostly heavily deformed, distorted, or bizarre human figures with large open mouths screaming, and are said to depict the fundamental insecurities of human existence. Bacon was also known to be a romantic, falling deeply in love with five men during his lifetime, the third of whom, George Dyer, is the most famous as he is depicted in many of Bacon's works.
・Tom of Finland (1920-1991)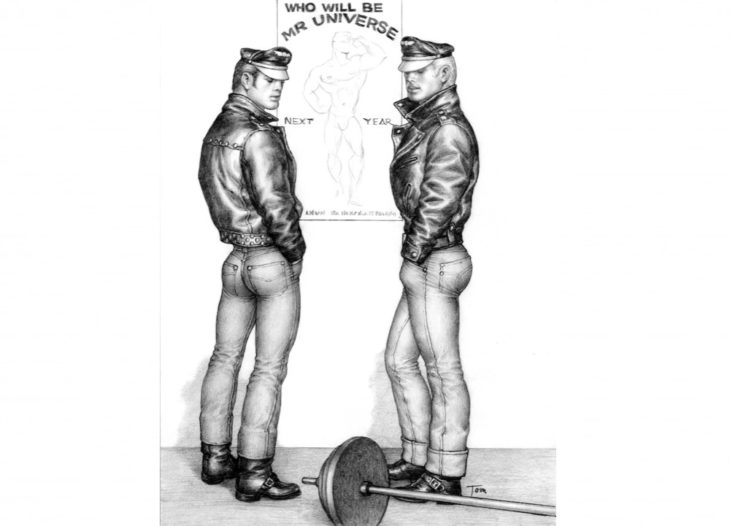 Real name Touko Laaksonen, he was a Finnish painter. Through his gay paintings and other works, he promoted social movements for LGBTQ + rights and social acceptance, and his muscular and sexy images of manual laborers, soldiers, and bikers became popular in the underground gay scene. By 1969, numerous gay organizations and publishers in the U.S. had become domestic and, although never covered by the media, international organizations were being formed. Then, in 1957, a drawing he sent was featured on the cover of the American fitness magazine Physique Pictorial, and his work became instantly known abroad.
・David Hockney (1937-)
David Hockney is a British painter of the 20th and 21st centuries, currently based in Los Angeles, California, U.S.A. Hockney has been a major influence on the Pop Art movement since the 1960s, and is considered one of the leading representatives of 20th century contemporary art in Britain. As a homosexual, he actively expresses the essence of homosexuality in his portraits.
・Felix Gonzalez-Torres (1957-1996)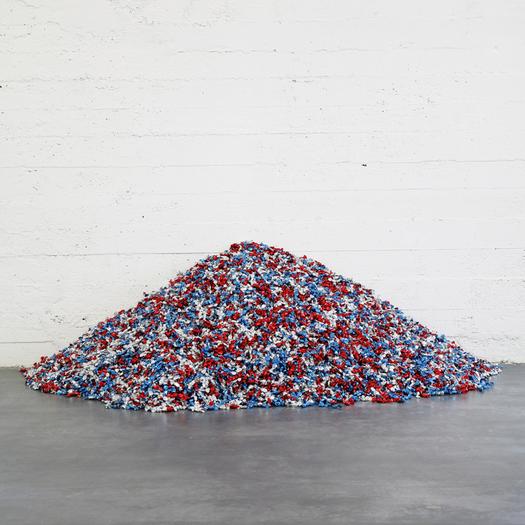 Cuban-born American artist generally known for his minimalist installations and sculptures using light bulbs, clocks, piles of pieces of paper and candy. Much of his work can be interpreted in terms of life paradoxically illuminated by the eternal absence of a lover lost to AIDS and the prospect of death, as if he too might die of the disease.
・Keith Haring (1958-1990)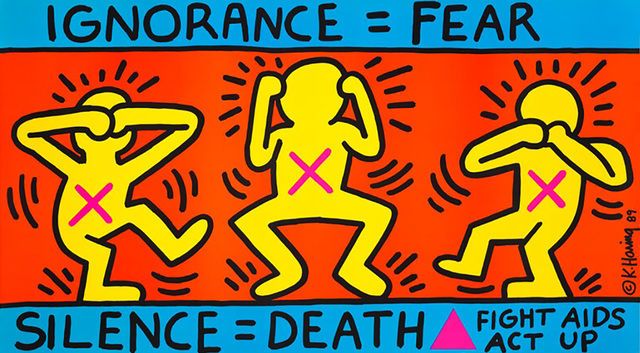 A leading American artist of the 1980s, Keith Haring is known for his many philanthropic activities, including his work on the AIDS epidemic and his work with underprivileged children. In particular, Keith, who himself was infected with HIV, was actively involved in AIDS eradication activities by sending out messages to prevent HIV infection through his artwork. The title of Haring's "Silence = Death" (1989) was taken from the slogan of ACT UP (AIDS Coalition To Unleash Power), a support group for AIDS patients formed in 1987.
In the 1980s, when Haring was active, the relationship between homosexuality and HIV became an issue, and the more LGBTQ + was pushed to the forefront along with it, the more people disliked it. Some young activists began using the term "queer" as a provocative term from all sexual minorities and gender disparities, claiming that "gay and lesbian" was a more normative expression.
– Recent Movements
In recent years, LGBTQ +-themed exhibitions have been held in museums and new museums have been established. Here are some of the major LGBTQ+-themed exhibitions that have taken place in recent years, as well as some of the new museums that have opened or are scheduled to open in the near future.
The new Queer Britain National LGBTQ+ Museum is scheduled to open in London, England in 2021, and in an interview, museum CEO Joseph Galliano said, "LGBT history is very fragmented.
Even for gay men, who were the most visible of the LGBT, the generation prior to the 1960s is aging and their experiences are being lost. The experiences of BAME people (Black, Asian, and other ethnic minorities), women, and transgender people are even less important than those of men, so there are many untold stories. "
・Exhibition
■MYTH MAKERS ― SPECTROSYNTHESIS III -10/04/2023 Tai Kwun, Hong Kong
https://app.taikwun.hk/en/programme/detail/myth-makers-spectrosynthesis-iii/1103
■QUEER Contemporary -18/03/2023 NATIONAL ART SCHOOL Sydney, Australia
https://nas.edu.au/sydney-worldpride-2023/
■Martin Wong Malicious Mischief
25/02/2023 – 14/05/2023 KW Institute for Contemporary Art, Berlin Germany
https://www.kw-berlin.de/ausstellung-martin-wong/
■PRAGUE PRIDE FESTIVAL 7–13/08/2023 Prague, Czech Republic
https://festival.praguepride.com/en/

・Museum
■QUEER BRITAIN London, Britain
https://queerbritain.org.uk/join-us
National LGBTQ+ museum opened in 2022. 5 minute walk from King Cross Station.
■Schwules Museum Berlin, Germany
https://www.schwulesmuseum.de/visit-us/?lang=en#/
Opened in 1985, it was the first museum in the world dedicated to gay history.
Currently exhibiting works that focus on LGBTQ+ in general.
■the American LGBTQ+ Museum  Manhattan, USA
https://americanlgbtqmuseum.org/about/
open in 2024
– Summary
We have introduced only a small number of LGBTQ+ artists. Thanks to many other artists who have expressed their LGBTQ+ identities through literature, film, photography, and other forms of artistic expression, society is slowly changing. We will continue to focus on the relationship between LGBTQ+ and art.