image source : Academy of Fine Arts 
The history of the countries in Central and Eastern Europe is very interesting and complex history. There is linguistic, religious, ethnic, and cultural diversity, as well as shifting the geopolitical boundaries. There are a lot of interesting artists and contemporary art attractions in the Eastern European countries, and of course there are art markets, too.
However, very few people choose Eastern Europe as a place to study art or work as artist. This is probably due to the lack of information about the art scene in Eastern Europe.
Therefore, we would like to provide some brief data and links to art universities and academies colleges with art departments in Eastern Europe. Basically, we focus on universities that offer bachelor's degrees and websites with information in English. Please note that the following list is not all-inclusive. So let's get started.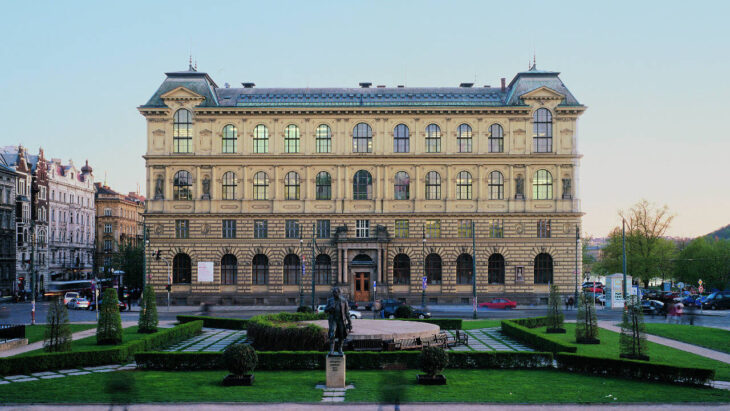 Czech Republic
■ Academy of Fine Arts 
Founded in 1799. It is the oldest art academy in the Czech Republic.
■ Academy of Arts, Architecture and Design in Prague
It is divided into design fields such as graphic, fashion, and product, and craft fields such as glass and ceramics.
■ Academy of Performing Arts in Prague
Founded in 1945. It consists of three faculties: the Faculty of Music, the Faculty of Drama, and the Faculty of Visual Arts.
■ Bruno University of Technology, Faculty of Fine Arts
The Faculty of Fine Arts is incorporated as part of the Faculty of Engineering.
■ Jan Evangelista Purkyně University in Ústí nad Labem, Faculty of Art and Design
The university is located in the North Bohemian region. It offers courses related to crafts and design. It has excellent facilities, equipment and tools.
■ Art&Design Institut
It is the first private university in the Czech Republic dedicated to fine arts. The university offers a wide variety of faculties, including graphic, media, painting, spatial design, art history, and art management.
■ Prague City University , School of Art & Design Faculty
It is a private university established in 2004. Courses are available in English.
■ University of Ostrava, Faculty of Fine Arts and Music
Students can study art theory, drawing, media, painting, and sculpture. In the music program, students can learn about piano, strings, voice, and wind instruments.
■ University of Ostrava, Faculty of Arts
The program focuses on language, history, philosophy, and sociology. Students can also study art history in this context.
■ University of Creative Communication
It is a private university with courses for all kinds of careers in the creative industries. Students can study creative management, communication, visual arts, literature, and more.
■ Charles University, Faculty of Arts
One of the oldest university in Europe. The department offers a very wide range of studies, from philosophy to religious studies, history, archaeology, psychology, sociology, political science, theater, film, and musicology.
■ Anglo American University
This internationally accredited three-year program offers a contemporary and interdisciplinary education in the visual arts, combining courses in art history, multi-level art studio options, film and new media, and arts management.
■ University of New York in Prague
The Bachelor of Arts in Digital Media Arts in the U.S. can be completed in four years.
■ University of Hradec Králové, Faculty of Education
Students can learn about education, the arts, and language.
■ Tomas Bata University in Zlín, Faculty of Multimedia Communications
Students can study a wide range of subjects from art management and theoretical research to animation, digital design, graphic design, game design, product design, and spatial design.
■ Scholastika
A private visual communication college offering education in design, fine and applied arts, Scholastika has been accredited to award associate degrees (DiS.) since 2015, when it achieved university status.
■ Technical University of Liberec, Faculty of Arts and Architecture
Students can study art theory, and art history to architecture, urban planning, and building structure.
■ Silesian University in Opava, Faculty of Philosophy and Science
Students can study art subjects (history, museum studies, archaeology, Czech, foreign languages, library science), science subjects (physics, computer science), and art subjects (photographic creation).
■ Film Academy of Miroslav Ondricek
Students can study the Writing and Directing, Cinematography, Sound, Editing, production, and Animation. Some programs lead to a Bachelor of Arts or Master of Fine Arts degree.
■ Masaryk University, Faculty of Arts
Students can learn about media, Theater, Film, and Education.
■ Palacký University Olomouc, Faculty of Arts
Art History, Theater and Film, and Musicology majors are available for study.

Poland
■ The Academy of Fine Arts in Warsaw
It is one of the oldest and largest institutions of higher education in fine arts in Poland. It has nine faculties: Painting, Graphic Arts, Sculpture, Interior Design, Design, Art Conservation and Restoration, Media Arts, Performing Arts, and Visual Culture Management.
■ University of Fine Arts in Poznań
Celebrating its 100th anniversary in 2019. The school offers the following departments: Animation, Architecture and Design, Interior design and Stage design, Graphic arts and Visual communication, Multimedia communication, Painting and Drawing, and Sculpture and Scenography.
■ Kraków Schools of Art and Fashion Design
Students can study Fashion design, Photography, Interior design, Visual merchandising, Choreography, Theater, and Pattern making.
■ Jagiellonian University in Kraków , Faculty of History
Students can study Archaeology, Ethnology, Cultural anthropology, History, Art history, Jewish studies, Musicology, and Cultural heritage.
■ Adam Mickiewicz University , Faculty of Arts Studies
There is a Faculty of Arts and Culture, consisting of the Institute of Art History and the Institute of Musicology.
■ University of Lodz, Faculty of Philosophy and History
Students can study Art history research, Architectural history, and the History of painting and Sculpture.
■ University of Gdańsk , Faculty of History
The faculty of History consists of three institutes: the Institute of Archaeology and Ethnography, the Institute of History, and the Institute of Art History. It offers seven degrees in Archaeology, Ethnology, History, Art history, area studies, History and Tourism, German studies, and Religious studies, as well as a doctoral program and five graduate courses.
■ The John Paul II Catholic University of Lublin, Faculty of Humanities, Institute of Arts Studies
There is an Institute of Arts that conducts scientific research in the fields of art History and Musicology.
■ Cardinal Stefan Wyszyński University in Warsaw, Faculty of Humanities
Museum studies can be studied. The program offers a wealth of educational content, including courses in Museology, History of collecting, Historical methodology, Art history, Archaeology, Ethnology, Sociology, Natural sciences, and Technical sciences, as well as practical training in museum work. In addition, Museology offers special courses in collecting, appraisal, and art market.
■ Maria Curie-Skłodowska University, Faculty of Arts
The Faculty of Fine Arts consists of the Conservatory of Music and the Faculty of Fine Arts, with 23 departments and laboratories/workshops.
■ Eugeniusz Geppert Academy of Fine Arts
Interior design, Performing arts, Graphics, Media arts, Ceramics, Glass, Painting, and Sculpture, Art mediation courses are available.
■ University of Zielona Góra, Faculty of Arts
Students can study interior design, art education in music arts, graphics, jazz and pop music, and visual arts.
■ University of Opole, Faculty of Art
Students can have a bachelor's degree in the field of Arts education. Students can study the Visual arts field, Curatorial arts, Graphic design and New media, Ceramics, Sculpture, Multimedia, and Stage design.
■ Pedagogical University of Krakow, Faculty of Art
Students can study Graphics, Design, Digital design, Visual communication, Media arts, Printmaking, Graphic design, Multimedia, and Contemporary art.
■ Academy of Film, Art and Design
This is the only private university in Poland offering master's degrees in the fields of Film, Television and Photography. Students can study Architecture, Interior design, Design, Film, Photography, and Acting.
■ Jan Kochanowski University of Kielce, Faculty of Art
It's built by the Institute of Visual Arts and the Institute of Music.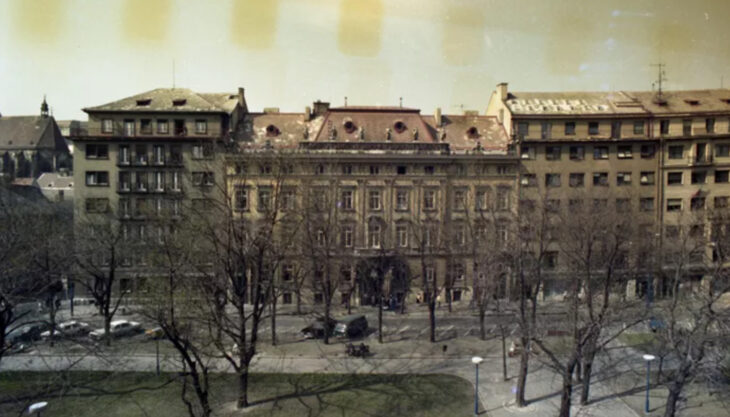 Slovakia
■ Academy of Fine Arts and Design in Bratislava
Students can study a wide range of subjects including Art theory, Art history, Painting, Architecture, Digital art, Textiles, Sculpture, Installation, Conservation, Intermedia, Printmaking and other media, Photography and New media, Design, and Visual communication.
■ Vysoká Skola Múzických Umení v Bratislavě
It is composed of three faculties: Theater, Film and Television, and Music and Dance.
■ Academy of Arts in Banska BystriIca
The School of Drama, the School of Performing Arts, and the School of Fine Arts. The School of Fine Arts offers courses in Graphics, Intermedia, Digital media, Painting, Sculpture, and Art theory and Art history.
■ Technical University of Košice, Faculty of Arts
The Faculty of Art includes the Department of Design, the Department of Architecture, the Department of Art and Media Studies, and the Department of Art Theory and Art History.
■ Comenius University Bratislava, Faculty of Arts
Within the Faculty of Fine Arts, there is a major in Aesthetics, a major in History of Visual Arts, and a major in Ethnology and Museum Studies.
■ University of Presov, Faculty of Arts
The Department of Aesthetics, Art and Culture is available.

Hungary
■ Hungarian University of Fine Arts
The department offers courses in Art history, Art theory and Curatorial studies, Conservation and Restoration, Art anatomy, Drawing, and Geometry, Graphic art and Graphic design, Intermedia, Painting, Scenic art, Sculpture, and visual education. Classes are conducted in English. Some courses are available in English.
■ Moholy-Nagy University of Art and Design
Students can study Animation, Theoretical studies, Jewelry design, Architecture, Product design, Photography, Media design, Ceramic design, Management, Graphic design, Fashion textiles, and Interaction design.
■ University of Pécs, Faculty of Music and Visual Arts
The faculty is divided into Fine arts, Design and media arts, and Music fields of study, including Painting, Sculpture, Art theory, Art history, Ceramic design, Graphic design, and Media arts.
■ University of Theatre and Film Arts in Budapest
The Institute of Theatre arts, the Institute of film & media, the Institute of art theory & mediation, the doctor of Fine arts and doctor of Arts programs, and the department of Adult education.
■ Eötvös Loránd University, Faculty of Humanities
Students can study Philosophy, Aesthetics, Film theory and history, Communication and media studies, and Art history in the liberal arts field.
■Budapest Metropolitan University
It is the largest private university in Hungary. Students can study Animation, Art and design management, Environmental design, Film and media studies, Graphic design, and Media design in art courses.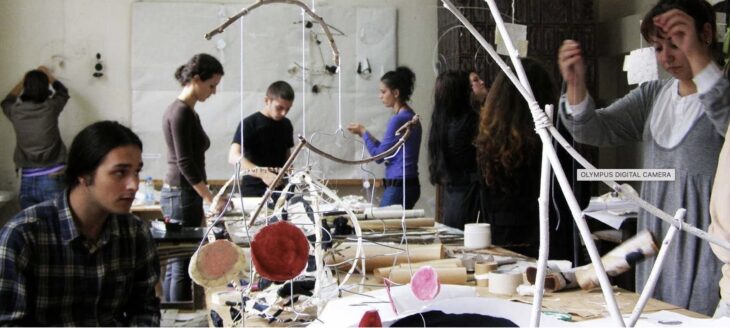 Romania
■ Bucharest National University of Arts
The School of Fine arts, the school of decorative arts, and the school of Art history and theory. In the faculty of Fine arts are Painting, Graphic arts, Sculpture, Photography, and Theoretical studies. The school of decorative arts and design offers Design, Fashion design, Textile design, Textile art, Mural painting, Ceramics, Glass, Metal, and Set design.
■ University of Arts and Design in Cluj-Napoca, Vlaicu Building
You can study Painting, Sculpture, Graphic design, Photography and film, Conservation and restoration, Decorative arts pedagogy, Ceramics, Glass and metals, Textile art and textile design, Clothing design, Design, and Art history and theory.
■ University of Arts from Târgu-Mureș
Students can learn in the fields of Theater and performing arts, Visual arts, Music, and Communication sciences.
■ National University of Arts George Enescu
The School of Performance, Composition, and Music theory studies, the School of drama, the School of visual arts and design, and the School of teacher education.
■ National University of Theatre and Film "I.L. Caragiale" in Bucharest
The university offers bachelor's, master's, and doctoral programs in Acting, Puppetry, Directing, Choreography, Scenography, and Playwriting.
■ National College of Art "George Apostu" Bacau
There are four departments: Music, Choreography, Art, and Architecture.
■ Universitatea de Vest din Timișoara, Facultatea de Arte și Design
There are two departments: department of visual arts, where students can learn about theoretical training programs in Painting, Graphics, Sculpture, Photography and Computer imaging, Conservation, and Art history and theory; and the department of design and applied arts, which offers three special education routes (Graphic design, Product design, and Environmental design) in Fashion, Decorative arts (Textile art and ceramics), and Design.
■ Universitatea "Dunărea de Jos" Galați, Faculty of Arts
The faculty of arts is divided into three departments: Theater, Music, and Fine arts.
■ Lucian Blaga University of Sibiu, Faculty of Letters and Arts
The faculty of arts and letters has three departments: Performing arts, English and German, and Romance languages.
■ Universitatea din Oradea, Faculty of Arts
There are two departments within the faculty of arts: Music and Visual arts.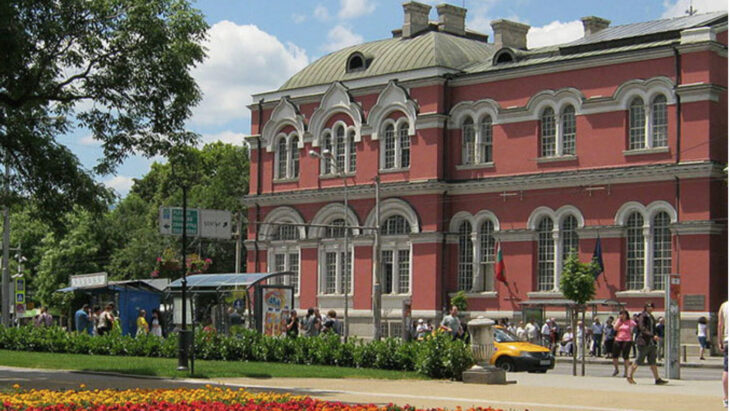 Bulgaria
■ National Academy of Art Sofia
There are two faculties: the faculty of fine arts and the faculty of applied arts. The faculty of fine arts is divided into the departments of Painting, Mural arts, Sculpture, Printmaking, book, Illustration and printed graphics, Poster and visual communication, Art history, Drawing, and Art psychology, Education and General education. The faculty of applied arts is divided into the departments of Wood sculpture, Ceramics, Performing arts, Textile design, Metals, Industrial design, Advertising design, Ceramics and glass design, Children's environmental design, Fashion, and Restoration.
■ National Academy for Theatre and Film Arts "Krastyo Sarafov"
There are two schools: the school of performing arts and the school of cinematic arts. The school of performing arts offers courses in Drama theater acting, Puppet theater acting, Movement theater, Dance theater, Performing arts directing, Scenic painting, Theatre studies and theater management, and Theatre production. The school of cinematic arts offers Film and television directing, Television photography and editing, Film and television sound, Film and television producing, Film and television design, Screenwriting and Playwriting, Photography, Animation, Screen research and Journalism.
I hope you like the list above. We hope that you will use this article as a guide when you choose or contact these schools, also visit there and exchange information with the students you meet. If you are interested in studying art in Central and Eastern Europe, sure it worth going.
Let's be even more creative and survive this world!