MOCAK, a museum of contemporary art in Krakow, Poland, opened in 2011.MOCAK's two most important aims are presenting the art of the two last decades in the context of the post-war avant-garde and conceptual art as well as clarifying the rationale of creating art by highlighting its cognitive and ethical value and its relationship with everyday reality.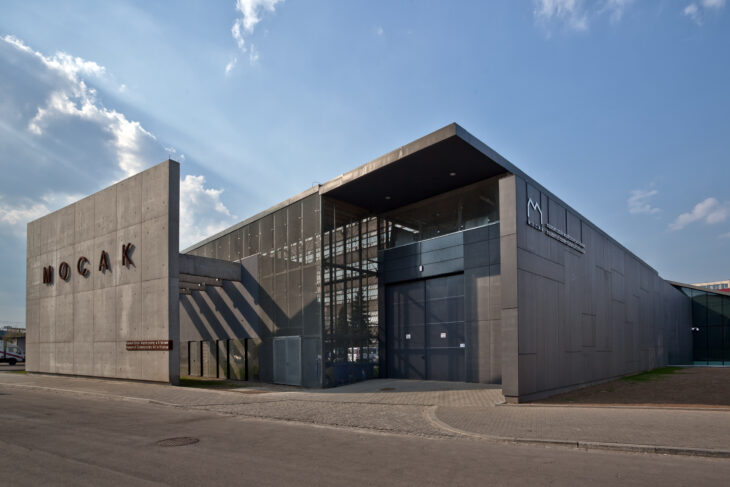 The exhibitionThe Artist Is Present is a presentation of artistic strategies based on the artist's use of their own body as a means of expression and a source of symbols. The self-portrait is the underpinning area of such activity, which also involves a study of the body's strength, attractiveness, disfigurement and functionality. This is where painting and performance work best. This art declares unequivocally that the basic material and inspiration in visual creation is the human being.
In the exhibition, corporeality expresses the artist's mental and physical condition. This is particularly evident in the documentation of actions and performances, whose creators test the possibilities and limitations of their own bodies, often combining them with media experiments. The artists' intentions range from reflection on art itself to socio-political rebellion.
In 2021 MOCAK is celebrating the 10th anniversary of its opening. For the occasion, we have prepared exhibitions based on the Collection. One of the Museum's principal goals is to demonstrate to audiences the merit of contemporary art; the Collection is a key vehicle for achieving this. We want the public to have the opportunity to learn more about our collections and the issues they represent, and to see works never exhibited previously, including the new acquisitions. The jubilee exhibitions will show the media and thematic diversity of our ever-expanding Collection.
Artists: Marina Abramović, Azorro, Jakub Bąkowski, Jerzy Bereś, Bernhard Johannes Blume, Rafał Bujnowski, Josef Dabernig, Andrzej Dłużniewski, Pola Dwurnik, EVA & ADELE, Katarzyna Górna, Przemysław Jasielski, Wolf Kahlen, Leopold Kessler, Giorgi Khaniashvili, Krištof Kintera, Ragnar Kjartansson, Jarosław Kozłowski, Zofia Kulik, KwieKulik, Ane Lan, Natalia LL, Marcin Maciejowski, Krzysztof Maniak, Shahar Marcus, Małgorzata Markiewicz, Dóra Maurer, Teresa Murak, Csaba Nemes, Helmut Nickels, Ben Patterson, Laura Pawela, Géza Perneczky, Sándor Pinczehelyi, Józef Robakowski, Jerzy Rosołowicz, Adam Rzepecki, Mikołaj Smoczyński, Petr Štembera, Danuta Urbanowicz, Ryszard Waśko, Zbigniew Warpechowski, Ewa Zarzycka
Curators: Monika Kozioł, Dominika Mucha
Exhibition date: 24.6.2021–20.3.2022
Venue: Building A, level 0
The Artist Is Present Site
https://en.mocak.pl/the-artist-is-present
MOCAK Museum of Contemporary Art in Krakow
https://en.mocak.pl/
Opening hours
Tuesday–Thursday, Saturday–Sunday: 11 am – 7 pm
Friday: 11 am – 8 pm
Contacts
email: recepcja@mocak.pl
tel. +48 12 263 40 00